How GitLab's Head of Remote works async
Darren Murph on nonlinear workdays, saying yes to memos and no to meetings, and how leaders should "start with why" when it comes to building a more async team culture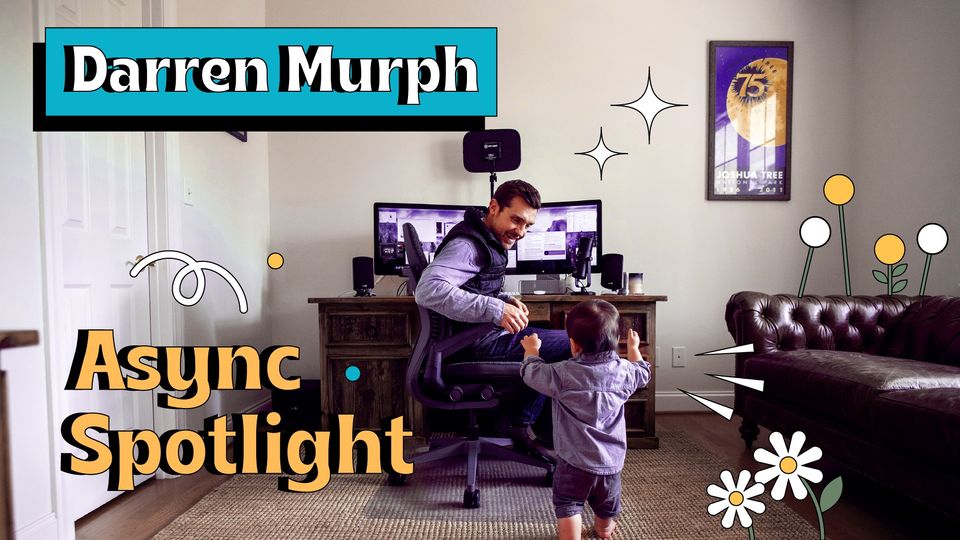 GitLab is one of the largest all-remote, async-first companies in the world with over 1,600 employees spread across 60+ countries. Last year, they became the first officeless company to go public. They're known for being radically transparent and documentation-obsessive — their famous, fully-public employee handbook has been mentioned multiple times in the newsletter comments and is a source of inspiration and practical advice for async-first companies the world over (Doist included!).
With that, I'll hand it over to Darren...
---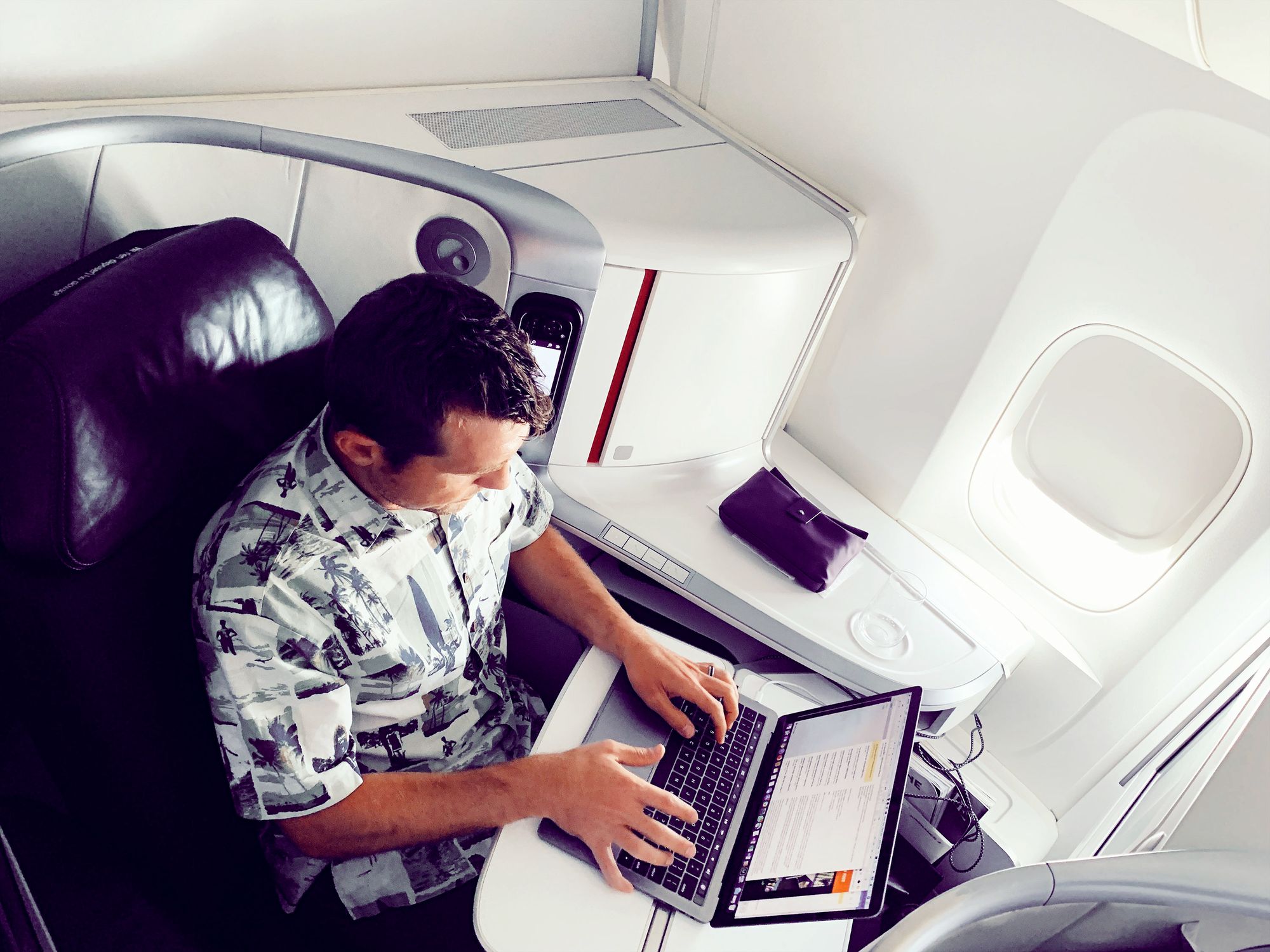 Name: Darren Murph
Location: North Carolina, USA
Title: Head of Remote
Company: GitLab
Number of employees: 1600+
From how many countries: 60+
Across how many time zones: 10+
Hello! Tell us a bit about yourself
Hi, I'm Darren, and you're awesome! I'm an adoptive dad, a husband to an extraordinary wife, a son, and a friend. I work at GitLab as its Head of Remote, where I collaborate with all functions of the business to evolve our workplace and organizational design. GitLab enables organizations to create, deliver, and manage code quickly through a unified DevOps platform. It's home to 1600+ team members in over 60 countries, and became the first 100% officeless company to go public in 2021.
CNBC called me an "oracle of remote work." I hold a Guinness World Record in publishing, and authored GitLab's Remote Playbook and "Living the Remote Dream: A Guide To Seeing the World, Setting Records, and Advancing Your Career."
I'm passionate about flexible, inclusive work environments that prioritize how work happens over where people are. My career is shaped by pathways of flexibility. There's a common thread of leading globally distributed teams in marketing, communications, and operations.
My foray into async work began as Managing Editor at Engadget, a consumer electronics publication. We hired editors and writers on six continents. The only way to facilitate excellence was to scale knowledge through a rigorously maintained company handbook and build infrastructure that enabled progress without meetings. As a company, we only held two to three meetings per year.
What does a typical workday look like for you?
No day is typical, and that's perfect for me. I recently described a nonlinear workday example in Future Forum. Nonlinear days are essential to peak happiness. They enable me to flex to the needs of my family, the weather, and where I'm at in the world.
If I'm home and things are steady, my ideal workday looks a bit like:
9am-11am: coffee, family, establishing priorities/triaging
11am-12pm: no meetings, focus work
12pm-2pm: workout and thinking/triaging time
2pm-5pm: sync calls
5-6pm: focus work
6pm-9pm: family
9pm-midnight: focus work
When you work with all functions of a business in 60+ countries, each day asks something different. Asynchronous workflows enable progress that would otherwise be impossible or remarkably difficult.
How would you describe async collaboration to someone unfamiliar with the concept?
"Memos over meetings."
What's the biggest benefit GitLab gets from working async-first?
Scaled knowledge. While many management philosophies prioritize the speed of knowledge transfer, GitLab optimizes for the speed of knowledge retrieval.
The key question answered is no longer, "How does the organization get information to the right people at the right time?", but rather, "How does the organization create a system where everyone can consume information (self-serve) and contribute, regardless of level or function?"
What's the biggest benefit you personally get from working async-first?
The gift of prioritizing time with family and friends.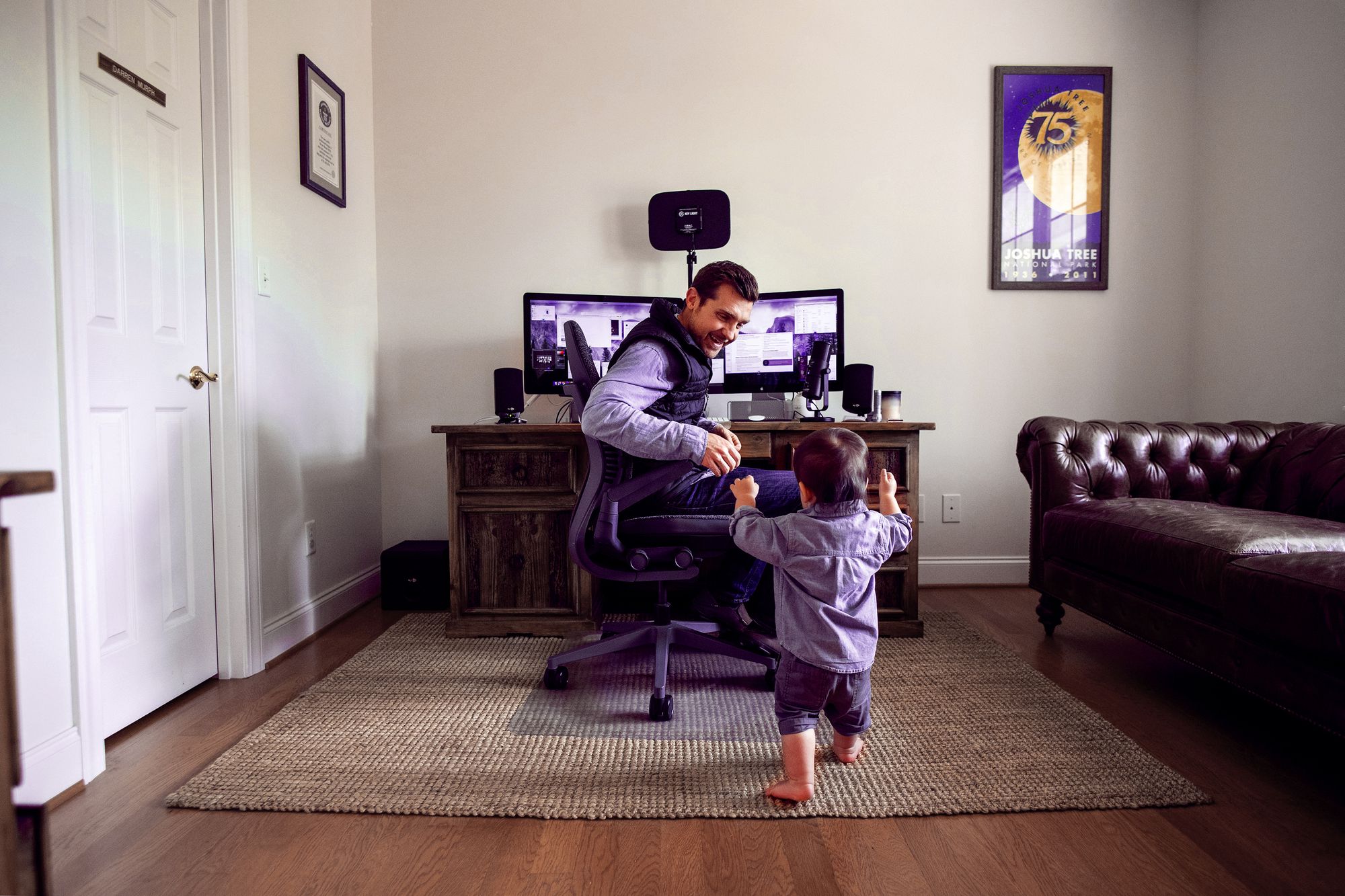 Biggest challenge of working asynchronously? How have you and your team overcome (or tried to overcome) it?
Nuance can be lost in async communication, particularly if you're collaborating with those who aren't as familiar with async or prefer to work verbally over textually. We lean into mediums like Yac and Loom to add voice and video where useful. The entire company collaborates on the GitLab platform; having a single source of truth where all workplace conversations are funneled is essential for shared understanding.
One piece of advice for team leaders who want to create a more async culture on their team:
The narrative is everything. Don't start by implementing a slew of tools and policies; that's not how you galvanize people. Start with why. Async isn't about the work; async is about enabling midday hikes with your family. Async is about being more respectful of your colleagues' time. Async is a doorway into a better way of living. If you help people understand how to redesign their lives through the power of async, you're more likely to steward the change process well.
Time you typically spend in meetings per week:
On weeks where I'm inwardly focused, anywhere between 10 and 16 hours. When I'm engaged externally (e.g. media interviews), it can reach 20 to 25 hours. As the world at large embraces asynchronous workflows, these numbers should continue to shrink.
Favorite way to say no to a meeting…
At GitLab, we literally document sample regrets that anyone can copy/paste:
"Thanks for including me! I'm wondering if we could try to solve this using a GitLab issue or a merge request so our thoughts and progress is documented?"
"I've been in so many meetings lately, but I'm trying to be more disciplined about my schedule. Could we try to solve this without a meeting, first?"
"I'd be happy to give you feedback on that! Before we schedule a meeting, could I review it in a GitLab issue/merge request, or shared doc?"
Favorite virtual team bonding activity…
A live Luna Park game show!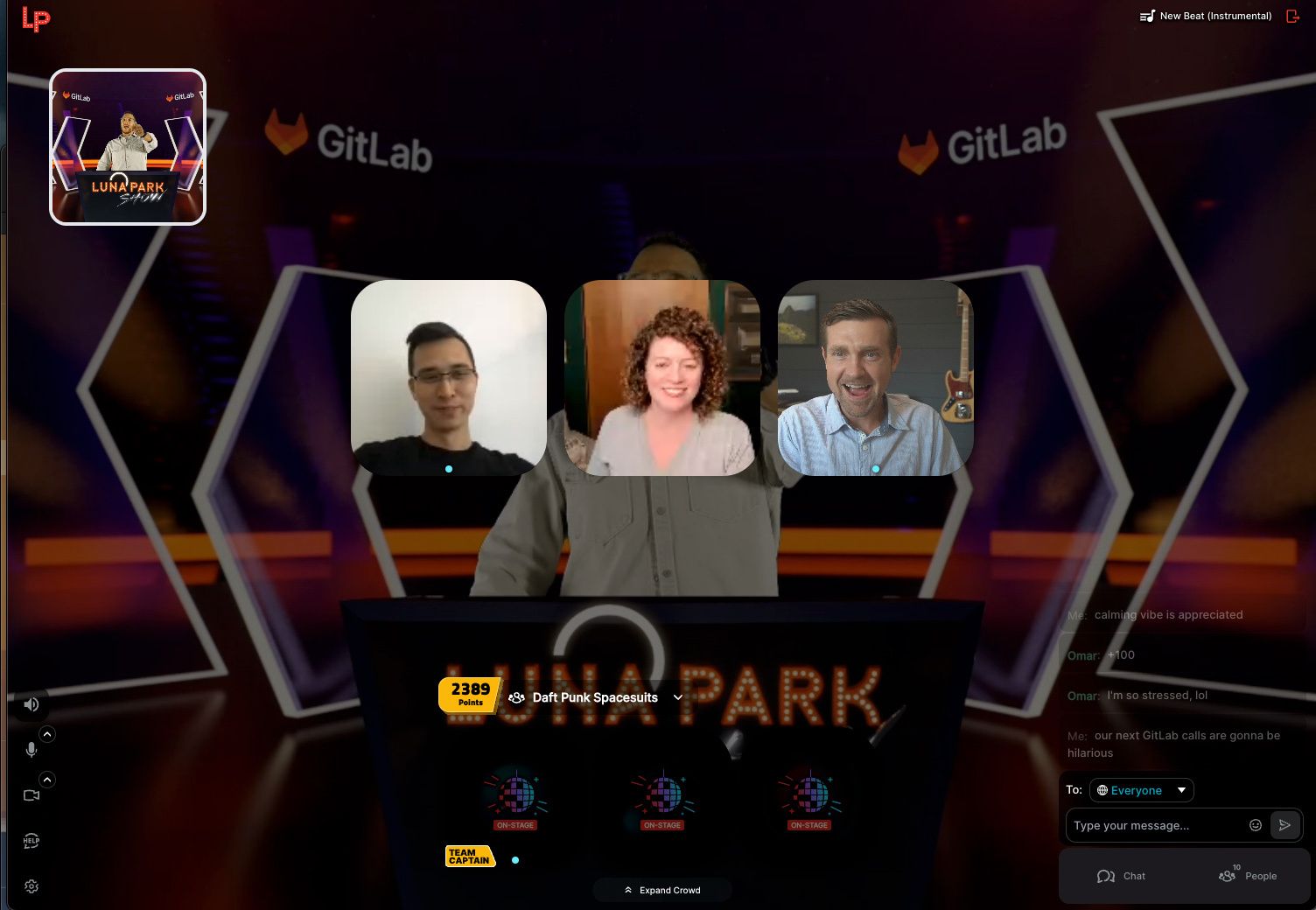 How do you like to recharge or take a break?
Walk, hike, pray, cardio routines, and catch up on sporting news.
Best home office upgrade you've ever made…
MacBook Pro with M1 Max processor. Game-changing to use a machine with zero fan noise.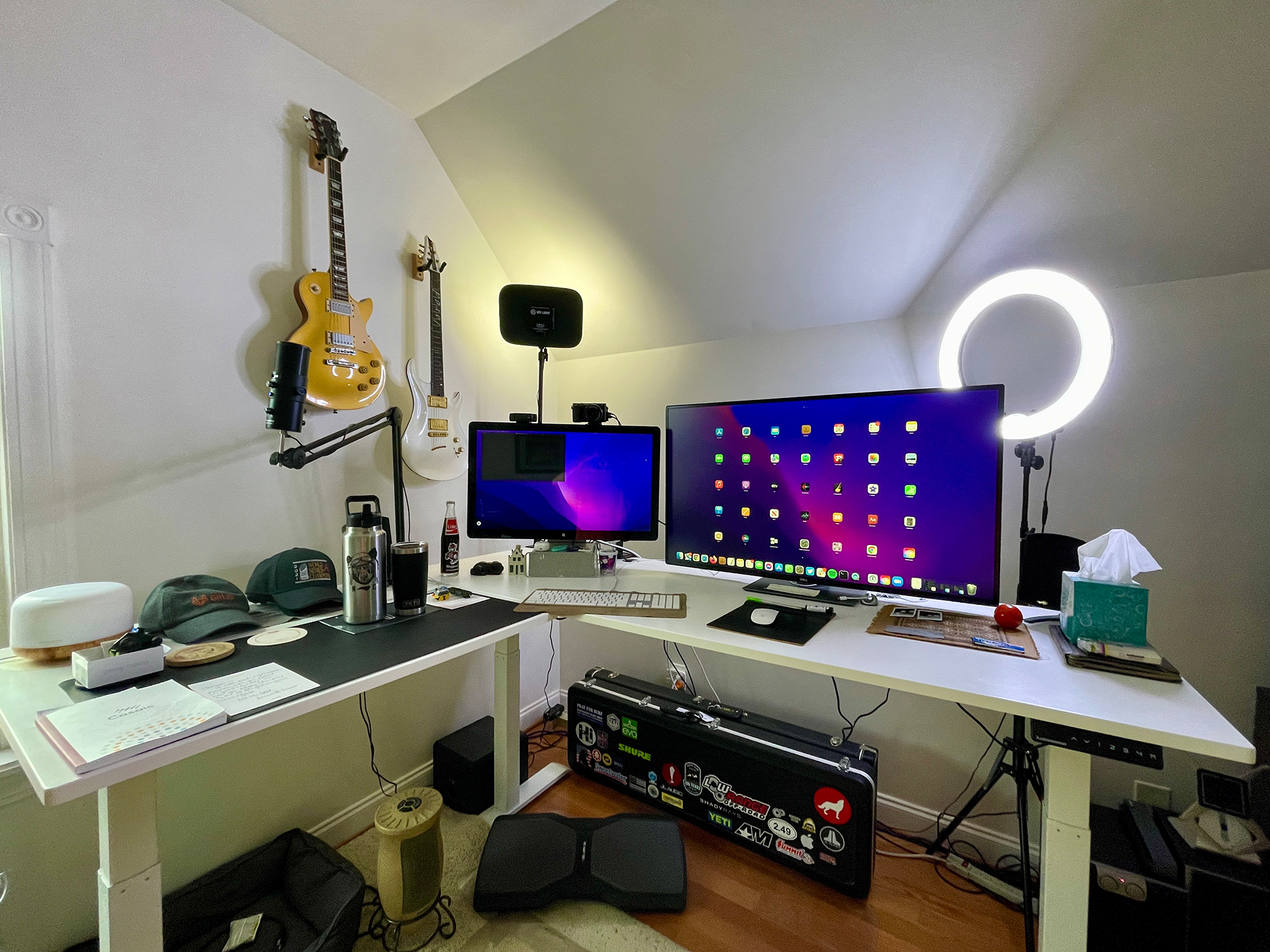 Something that's changed the way you approach work/life…
The Strength Deployment Inventory (SDI) and 16 Personalities test. Understanding your idiosyncrasies is vital to decoding your own brain. Both of my results are listed in my personal workplace operating manual to help others collaborate more effectively with me.
More on how GitLab collaborates asynchronously:
---
Want to work async? Gitlab is hiring