The 20/30/50 rule for remote team retreats
The most successful remote retreats optimize for "soft work." Here's how we approach it (including the actual agenda from our last retreat).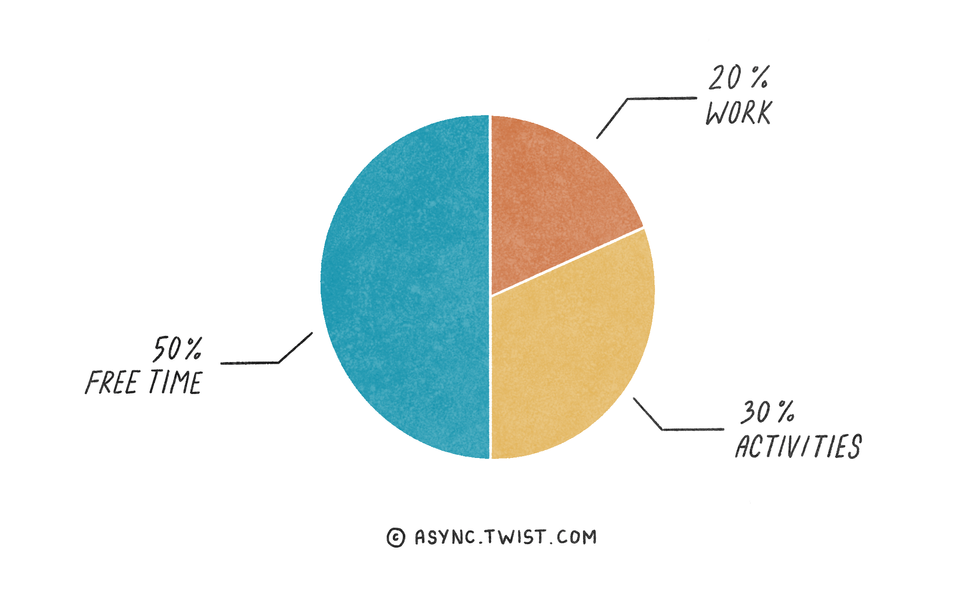 "It looks wonderful," Barbara, the host of our 2022 company retreat, said, reviewing our proposed agenda with an increasingly confused look on her face. "Umm, just one question…when will you do any work?"
A lot of companies are investing a lot of time and energy into bringing workers back into offices, hoping to build culture, foster human connection, and create serendipitous interactions that spark new ideas.
But they're putting little to no intentional thought into how they'll actually use that in-person time together. People don't want to commute into the office just to sit on Zoom calls and Slack chats all day. And catered lunches and happy hours will only get you so far.
Remote-first teams recognize the irreplaceable value of face-to-face interaction. We just don't think that you need to force people into an office 3 days a week to capture those benefits.
Those companies are all making the same mistake: in-person time isn't about the "hard work" — the actual tasks we're paid to complete — that can be done equally well, if not better, remotely and asynchronously. It's about "soft work" — catching up over coffee in the break room, exchanging gossip, connecting over shared interests — that might not look like work at all, but is essential for any cohesive team.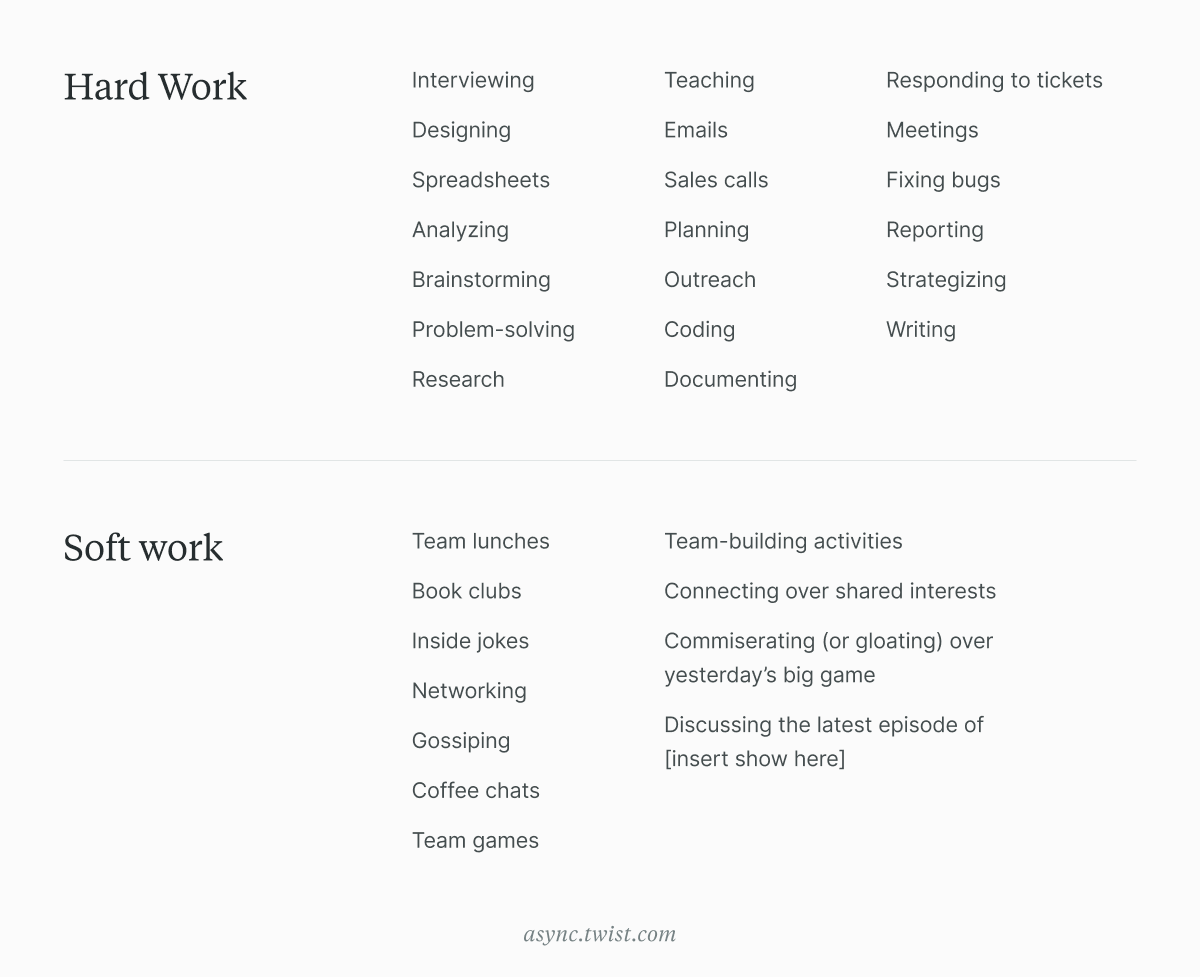 Let's correct the record: fully remote teams aren't a bunch of asocial robots who believe human connection is a distraction from getting things done. Yes, we believe the freedom, autonomy, and focus provided by a remote, async-first approach is a competitive advantage when it comes to creating an excellent employee experience. But we also recognize the irreplaceable value of face-to-face interaction. We just don't think that you need to force people into an office 3 days a week to capture those benefits.
As 1,445 current and former Apple employees put it in an open letter to the company's executive team following their return-to-office announcement:
"We definitely see the benefits of in-person collaboration; the kind of creative process that high bandwidth communication of being in the same room, not limited by technology, enables. But for many of us, this is not something we need every week, often not even every month, definitely not every day."
You're reading
The Async Newsletter
– a publication and community dedicated to making sure the "future of work" doesn't repeat the mistakes of the past.
Join 7,086 members
who are re-imagining what work could be.
How we design our team retreats to maximize their value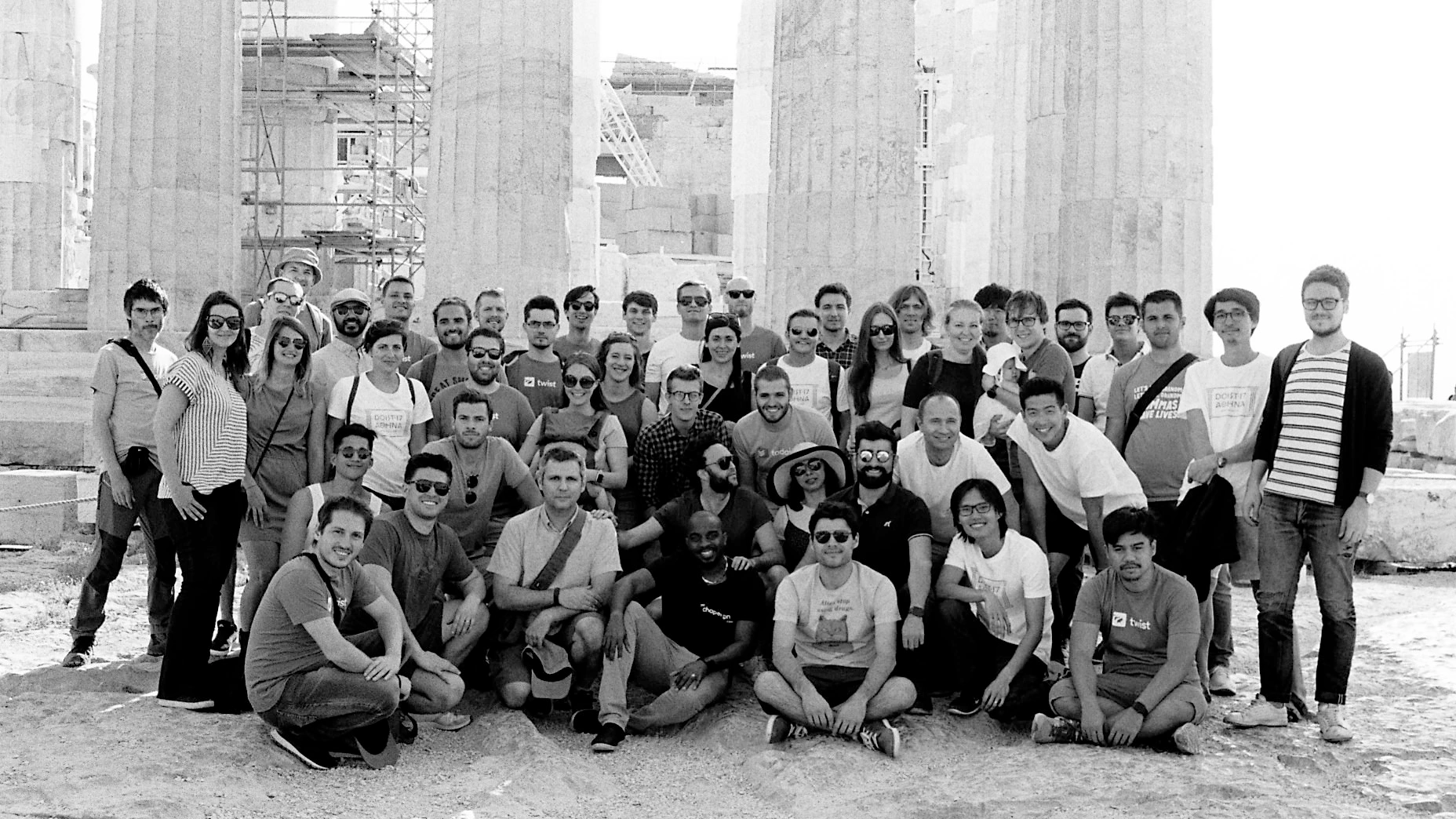 At Doist, everyone has the opportunity to meet with teammates in real life twice a year: once for a company-wide retreat of our ~100 employees and once for a mini-retreat with their immediate team. All expenses paid. All told, we spend $350,000 a year on these gatherings.
As I was designing our retreat strategy, I wanted to answer this question definitively: how do you create an agenda that maximizes the return on our in-person time together?
I read books and articles on the subject of team gatherings, reviewed our team's feedback from previous retreats, and spoke to countless other remote leaders. With all these different approaches and perspectives in mind, I developed the "20/30/50" rule. Our time together consists of:
20% - Dedicated work sessions
30% - Planned social and entertainment activities
50% - Rest, relaxation, free time
As with all elements of remote work, we didn't want to simply replicate what takes place in an office. The 20/30/50 rule is designed specifically for remote-first teams. This is why the 20/30/50 rule leans heavily towards the soft work that's much harder to recreate virtually the other 50 weeks of the year.
Here's what it looks like in practice: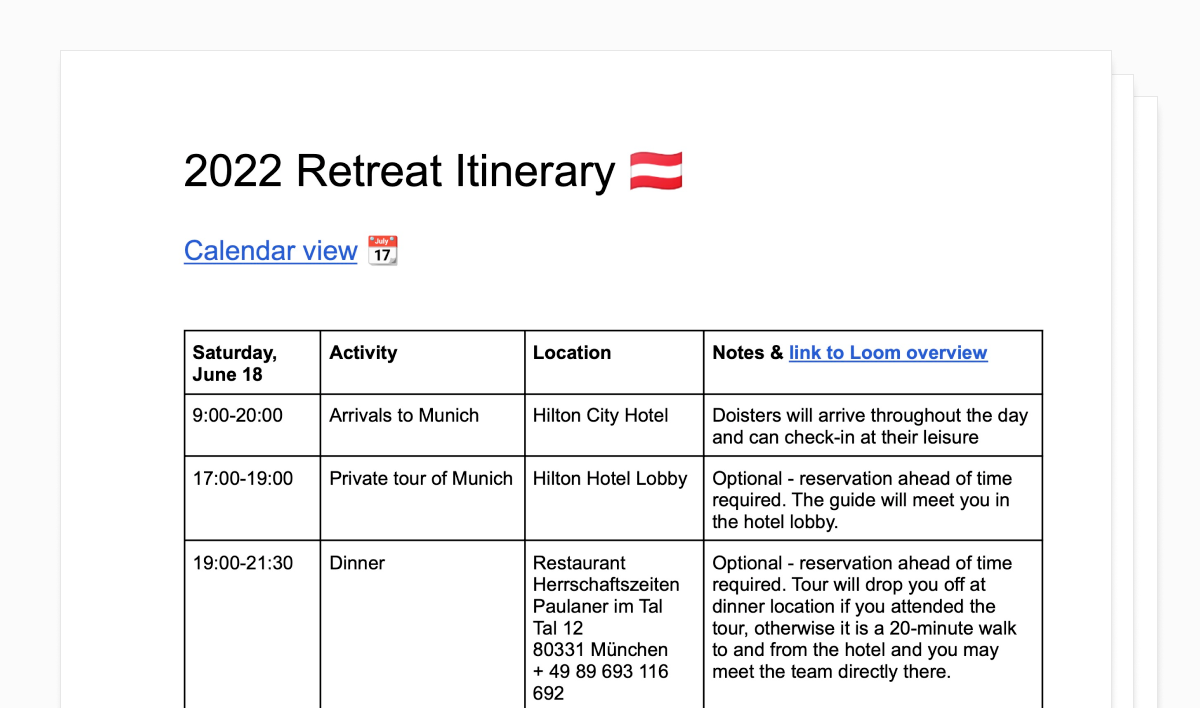 20% - Dedicated work sessions
Remote teams should not travel across the world to do their typical day-to-day work together. This is "hard" work, the type we've purposely optimized our workflows to do virtually and (primarily) asynchronously. Using our precious time together on things we can do apart is a poor use of this limited resource.
Instead, we see a retreat as a unique opportunity to realign the team around our core values and mission statement. So when we do work, we deliberately connect the dots between the work we choose to focus on and our deeper organizational goals.
At our most recent company retreat, some of these activities included:
Dedicated brainstorming workshops on specific topics we felt were blocking us from achieving those goals.
A presentation from our CEO related to the macroeconomic situation and its effects on our business, followed by AMA.
Doist Build, a hackathon where each team created and presented something connected to our company mission statement.
We tried to make these work sessions short but powerful, from 10:00-12:00/1:00 each day. The tight time frame forced us to come prepared and ensured that we used this time efficiently. Any longer and our focus would start to fade, but any shorter and we may have had to stop before we could even get moving. Two to three hours seems like the sweet spot for productive (but not exhausting) sessions.
At our mini-retreats, individual teams held high-level strategy sessions, focused on skill-sharing, and brainstormed ideas centered around major hurdles they were facing as a unit. We packed these into a few hours in the morning, then left the rest of the day free for the other 80% of the agenda.
The two keys to success here are clear communication about the expectations and ensuring you arrive prepared. Preparation is best managed asynchronously and well ahead of time, allowing all stakeholders to collaborate on the agenda creation.
We used a mix of async tools like Twist, Google Docs, Loom, and Google Calendar to communicate our plans and align on expectations.
30% - Planned social and entertainment activities
You want your team to look forward to these retreats, so we provide a variety of fun activities to choose from every day. Enabling choice is essential here - when people can choose what appeals to them, they naturally connect with other teammates over shared interests.
At our most recent retreat, we provided three activities to choose from each day, each of which lasted about three hours, with the ability to opt out at any time. We wanted these activities to appeal to different types of people, so we provided varied themes: physical/adventure (ex. hiking), cerebral/cultural (ex. guided tour), health/wellness (ex. spa).
We also hosted morning exercise groups (also optional, of course), led by a fellow teammate. Our Doist Athletes, members of a very active channel in Twist, took full advantage of the chance to build on their async connection. From yoga to HIIT to trail running, they started the day with a sweat and had a blast.
Another activity worth considering is a leisurely game night. We simply laid out some games in a common space, a few people brought video game consoles, and we had a night of lighthearted fun. Super easy, and the relaxed atmosphere actually helped create some of the best connections of the retreat. Finally, an optional activity is to simply rest.
50% - Rest, relaxation, free time
In my opinion, this is where the magic happens on company retreats, which is why half the agenda is intentionally left open. Despite all the planning and coordination, the real power of retreats is realized when you sit back and allow people to just be themselves, with time to connect with each other through serendipitous conversations.
If your team were co-located, they would probably go out for lunch together occasionally, celebrate each other's birthdays at a happy hour, or go for a group jog before work. The "50" part of the retreat provides the opportunity to make up for those missed experiences and allows people to build authentic connections over shared interests.
Contrary to conventional wisdom, this is also when some of the most important "work" gets done at a retreat. Side conversations blossom into innovative improvements, knowledge and perspectives are exchanged across teams, and current methodologies are challenged or tweaked.
A word of warning: it's critical to understand that these weeks can be intense, especially for introverts, even more so since the pandemic restricted social interactions for the past few years. Our social skills are like a muscle that has atrophied, and we need to provide everyone with the space to ease back into these events. People should leave retreats feeling refreshed and energized, not exhausted.
We encourage people to rest and recharge as needed. Retreat attendance is completely optional, but when you do attend, you'll find designated blocks of free time. Intentionally creating that space is important, since FOMO is real and human nature can encourage people to attend everything on the agenda. Help fight that urge by actively placing R&R on the agenda, and continuously reminding people to honor their energy levels.
Not only will people arrive as the best versions of themselves, but they'll also organically gravitate towards spending time with their teammates, building friendships and deeper relationships along the way.
---
I firmly believe that these retreats are less about the few days spent together — as memorable as those lederhosen were — and more about what follows.  Deeper bonds, a better understanding of your coworkers, and long-lasting friendships are formed, which we can lean on as a business for many months and years to come.
We fully embrace remote, async work 50 weeks per year, and let these two weeks fill in the gaps where needed. That formula, powered by the 20/30/50 approach, is working well for us at Doist.
Enjoy this newsletter?
The best way to support our work is to share it.
Send your favorite issue to a friend. Discuss it with a coworker. Print it out and passive aggressively leave it on your boss's desk. We appreciate you helping to spread the word!
---
3 things worth sharing...
"The future belongs to the savvy companies that offer the flexibility that people with disabilities need."
This NPR piece on the "Great Breakup"— women switching jobs in search of flexibility and inclusivity:
"Women leaders are saying effectively, 'We've had enough…we're going to go look for organizations that are delivering the work culture that we also want.'"
"Give working moms the benefit of the doubt: if we're away from our desks, we're helping with math homework or taking a mental-health walk, not sipping mimosas at brunch."
---
What's Twist? Twist is an async messaging app for teams burned out by real-time chat, meetings, and email.
You don't need to use Twist to get a ton of value out of this newsletter and community. But if the topics we talk about resonate with you, there's a good chance the app will too. See what makes Twist different →
🌎 Built asynchronously by the fully remote team at Doist