How Learning Ally Manages a Volunteer Community Over 1,000 Strong & Counting
A non-profit creating audiobooks for students with learning disabilities uses Twist for volunteer and staff communication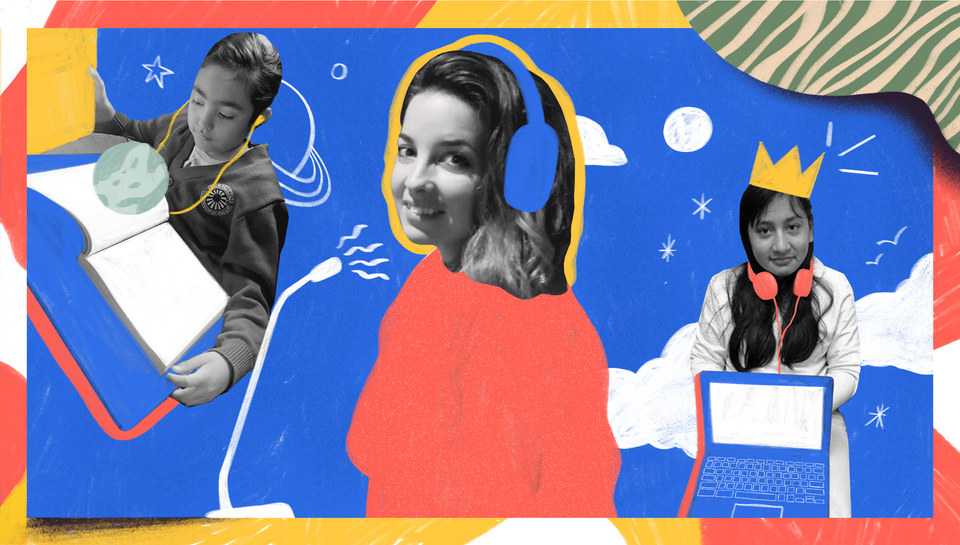 Audiobooks are among the fastest growing segments of the media and publishing industry — for their convenience and the way a narration brings a book to life. For people with learning differences like dyslexia that make it difficult to read printed text, audiobooks also open up a world of possibility, making it easier to learn to read at the crucial early stages.
That's exactly why the non-profit Learning Ally provides over 18,500 U.S. schools with audiobooks and other tools for students who struggle with learning to read. As part of the organization's mission "to make the printed word and education available for everyone," Learning Ally has invested heavily in creating audiobooks. It's one of the largest publishers in the world, with over 82,000 titles, from Shakespeare's plays to Diary of a Wimpy Kid and The Hate U Give.
Learning Ally's audiobooks are recorded by volunteers managed by the organization's lean staff. Because quality narration is important, Learning Ally prioritizes volunteer training and extensive feedback. A strong communication system is a must.
When Learning Ally saw a significant spike in volunteers during COVID-19, they decided it was time to make a switch to a team communication tool that would support their expansion. According to Alexis Bourbeau, director of Literature Community & Audiobook Quality for Learning Ally:
"We were looking around for a platform that could handle larger scale communications, because we have hundreds and hundreds of volunteers, plus staff, spread all across the U.S. and even more internationally, spread all across time zones.

Being a non-profit, we're a lean and mean operation. Finding ways to help volunteers organize themselves has been key, and also finding ways to support really, really large communities. These factors added urgency to adopting Twist to drive efficiency and volunteer communication."
They chose Twist to help them stay in close contact with over 1,000 active volunteers to manage the audiobook recording process and maintain a strong and personalized community as the number of volunteers grows, as well as collaborate as a remote team during the pandemic.
Find out how Learning Ally has used Twist to continue opening up the world of reading and literacy to students.
How audiobooks open up reading to students with learning differences
Around 20% of the population has dyslexia, and 65% of students read below grade level by the fourth grade. When they're learning to read, dyslexic students typically struggle to decode words. If they feel they're falling behind their classmates, they can get turned off from reading. Falling through the cracks early in the process puts these students at a greater likelihood of disengaging from and even dropping out of school.
"A lot of times, people who identify as 'I'm just not a reader, books aren't my thing' are people who actually suffer from an unknown disability," says Alexis.
Introducing audiobooks to students with dyslexia during the early reading process can change the narrative. Learning Ally's most popular tool, its VoiceText audiobook, combines human narration with text highlighting in the e-book. (It's available through the Learning Ally Audiobook Solution app called LAABS on all standard platforms).
"These are primarily young adult fiction titles, but we also do a fair amount of picture books, as well as graphic novels and some nonfiction books. We're currently working on the young adult version of Ibram Kendi's book about the history of racist ideas in America, called Stamped, to respond to the robust demand for curricula that address current events," says Alexis.
Listening to the narration of a book while following along with highlighted text helps students with the decoding process that is otherwise a source of struggle, according to dyslexia specialists. When engaged early and able to access the same texts as their peers, students are much more likely to succeed at text-based reading over time.
Parents and teachers say Learning Ally's audiobooks have solved a problem that previously felt intractable, replacing the need to stay up late with their kids as they're struggling to read textbooks or stories.
"It's very important for them to feel independent, especially as they are growing," says Silvia Rivera, whose son Kevin uses Learning Ally's books. "They don't want to be stuck with mommy or daddy reading to them. They're really, really smart, so Learning Ally provides that independence. And with independence, your self esteem goes up."
"I just loved reading after I found Learning Ally, because you can listen, but you can also read along, which really helps me," says William McCarthy, a student.
As Alexis points out, these students also have a lot to offer: "Finding a way to empower learners whose brains are wired differently also brings the benefits of their neurodiversity, like creativity and problem-solving, to society-at-large."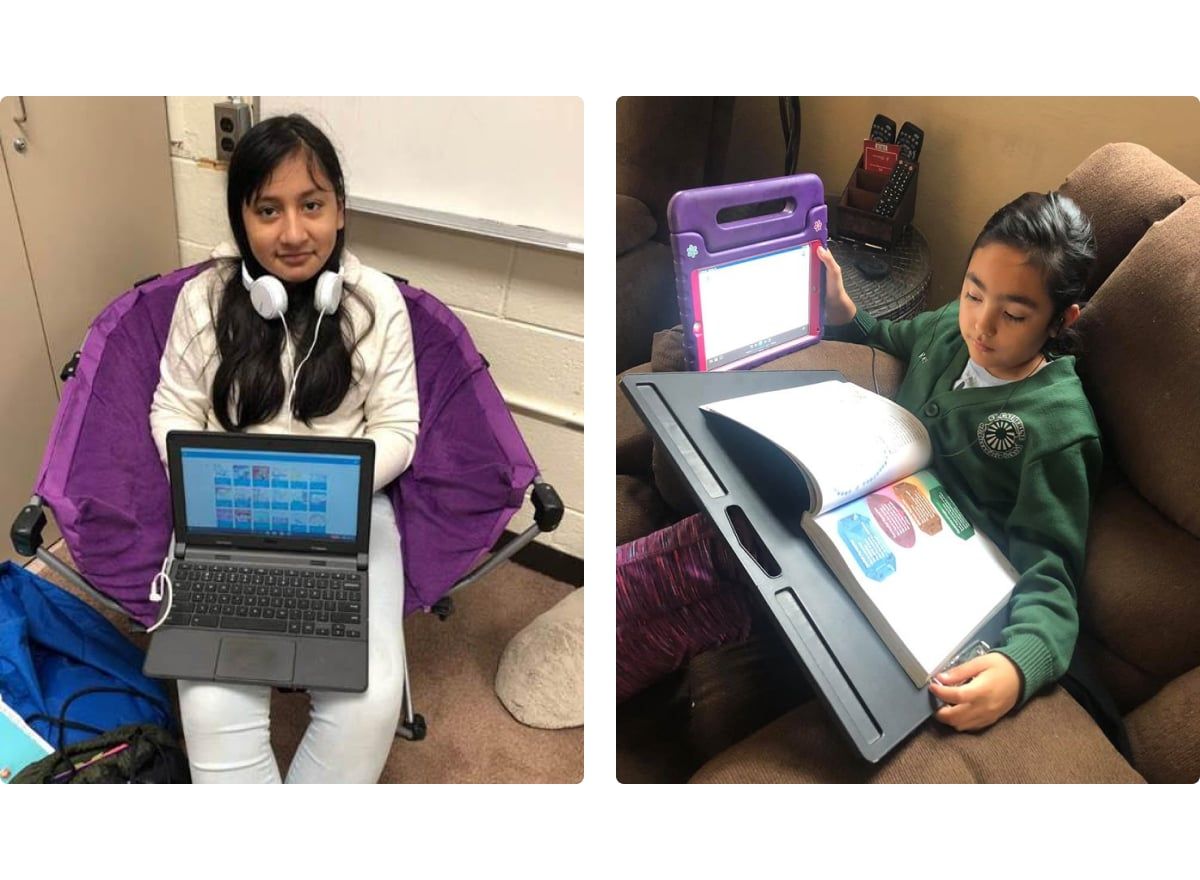 Why Learning Ally chose Twist
Volunteers are an essential part of the Learning Ally operation and are crucial for meeting the demand for new and high quality audiobooks. The organization produced 1,100 audiobooks in 2019 and were on track to create even more in 2020.
In recent years, the company transitioned from having volunteers record in studios to providing them with the freedom to record in the comfort of their own homes, allowing more people to take part in their mission from across the globe.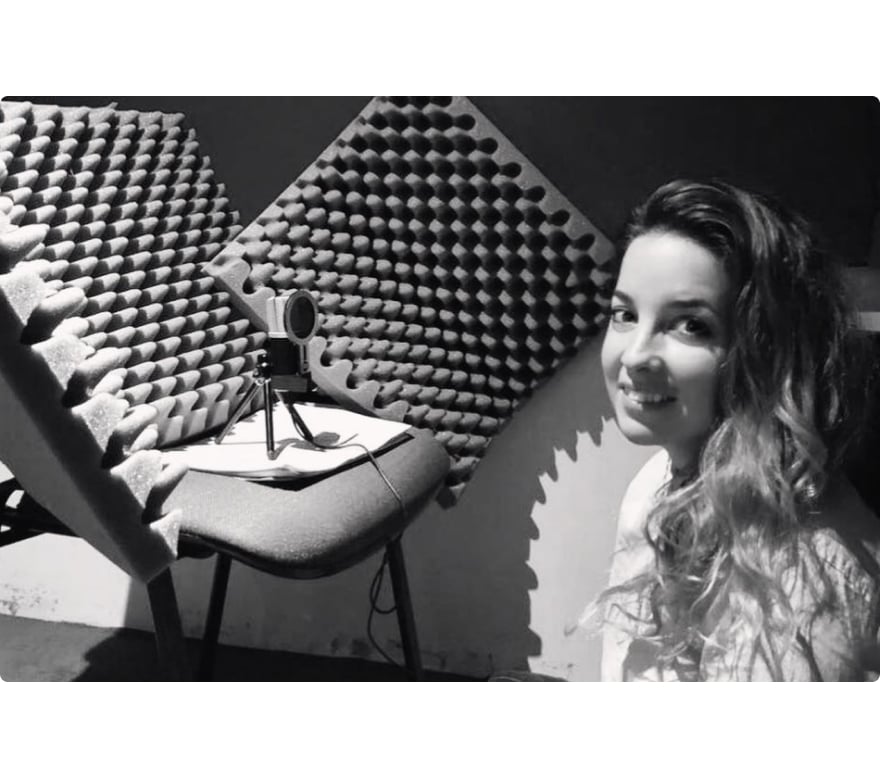 Volunteers include a large number of people with acting, audiobook, or voiceover experience and former and current teachers, who are often motivated by a love of literature or first-hand knowledge of the struggles some kids face.
In the days when they recorded in studios, volunteers marked their progress on an audiobook recording in binders that were stored in cubbies. There were "lots of signs and printed reminders [from staff] that may or may not have always been followed," says Alexis. "Volunteers would do a lot of scribbling back and forth in the binders that accompanied each book, but there was no good way to manage or guide that peer communication, or to know when to step in as staff."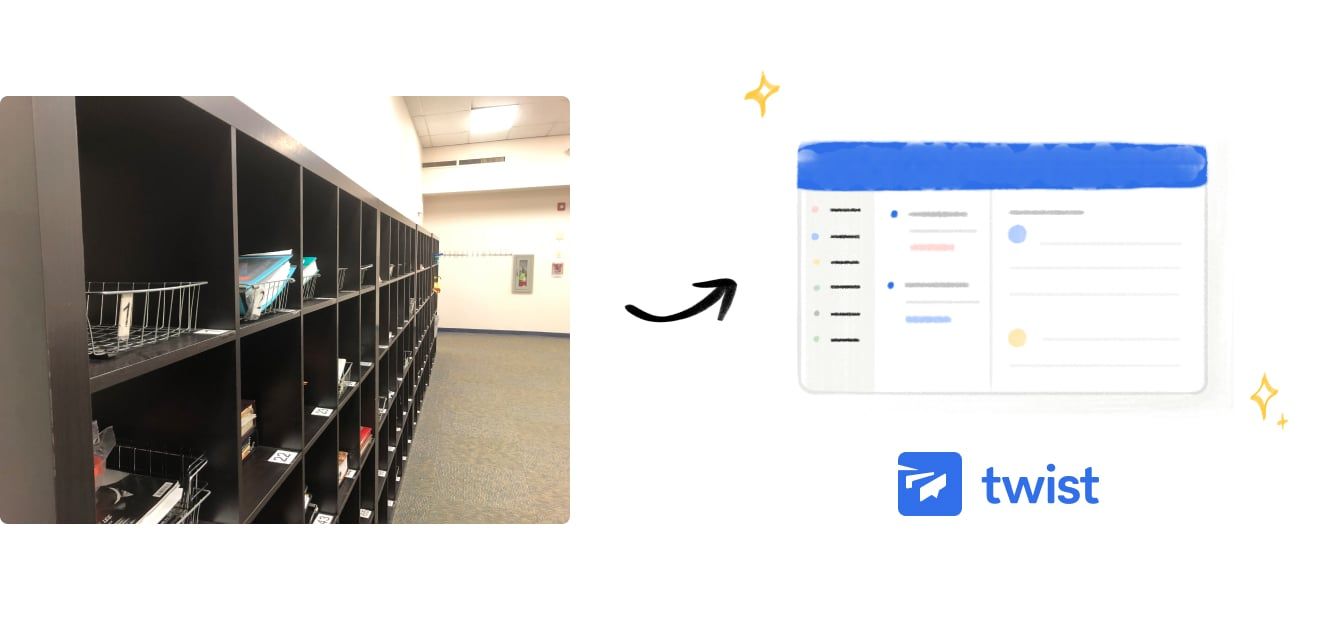 When they stopped recording in the studio, Learning Ally took advantage of the opportunity to switch to digital communication. Learning Ally chose Twist to coordinate their virtual volunteer operations, but not before they explored other options. They first used Google Hangouts, creating new chat windows for each discussion topic. However, this quickly became overwhelming — especially for more involved volunteers who had to deal with many windows. Plus, Google limited each conversation to no more than 150 participants.
After the start of the pandemic, Learning Ally received five times the number of volunteer applications they usually do. With this surge of interest came a need for a more organized and scalable way of communicating that enables Learning Ally staff to easily convey quality standards, keep management of audio recording projects efficient, have staff accessible to volunteers, and inspire a sense of community among disparately located volunteers.
Learning Ally introduced Twist earlier in 2020, with an animated video introduction complete with the avatar dancing "the twist" in celebration of the new tool.
"Now we can really be global. For example, we have a narrator in England that just did Pride and Prejudice with a proper English accent. It helps us with quality and efficiency. Twist has been helpful in giving us the communication that we didn't know that we needed," says Alexis.
How Learning Ally uses Twist to communicate with volunteers
Project managing audiobook creation
Creating one audiobook is a multi-step process that involves training a narrator, receiving the narrator's audio files, and making changes based on the feedback of the proofer. With hundreds of volunteers creating over 1,000 audiobooks each year, it's a huge project management effort.
Learning Ally uses Twist to standardize and partly automate communication with volunteers, minimizing the time staff take to individually explain processes. It also helps guide volunteers through the recording process. "Twist provides a structure for the types of communications you want to have," says Alexis. With other tools, communication "can get lost in the flood of messages," he adds.
Here's how Learning Ally manages everything in Twist:
Hacking a custom Twist integration: Learning Ally uses a Google Drive-based project management portal to create a card that volunteers access with information about the book they will record. Learning Ally used the Twist API to automatically create a custom Twist channel each time they create a new audiobook project card, by checking a box. When the volunteer reviews the card as they get started, they click on "discussion" to access the Twist channel for ongoing communication about the project.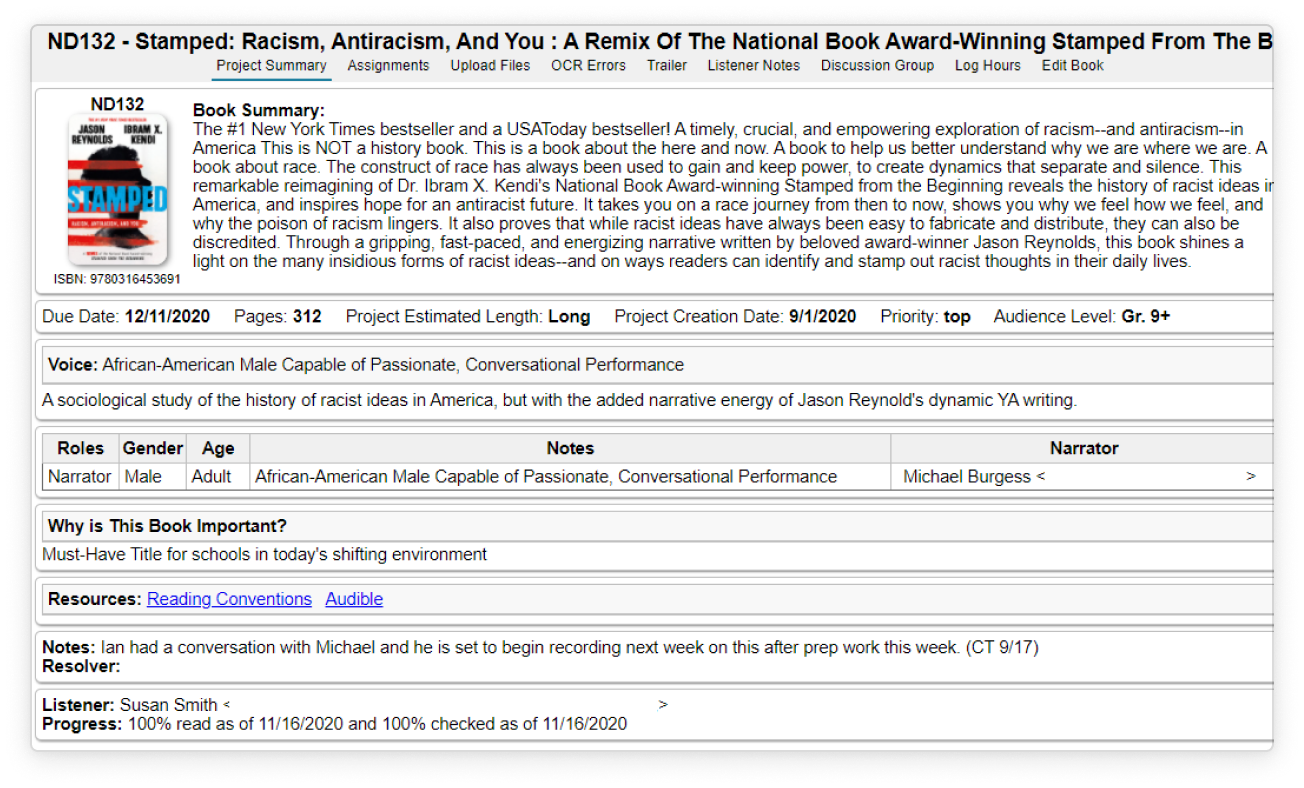 Creating a channel with pre-populated threads for each audiobook: Channels organize messages around a broad topic, in this case the audiobook being produced. Learning Ally organizes each audiobook channel into eight standard threads based on the most common types of conversations that come up in the recording process. The volunteer working on the audiobook is directed to start by reading the pinned thread called "Welcome and steps to getting started." This orients them on how to ask questions in Twist and begin the audiobook recording process.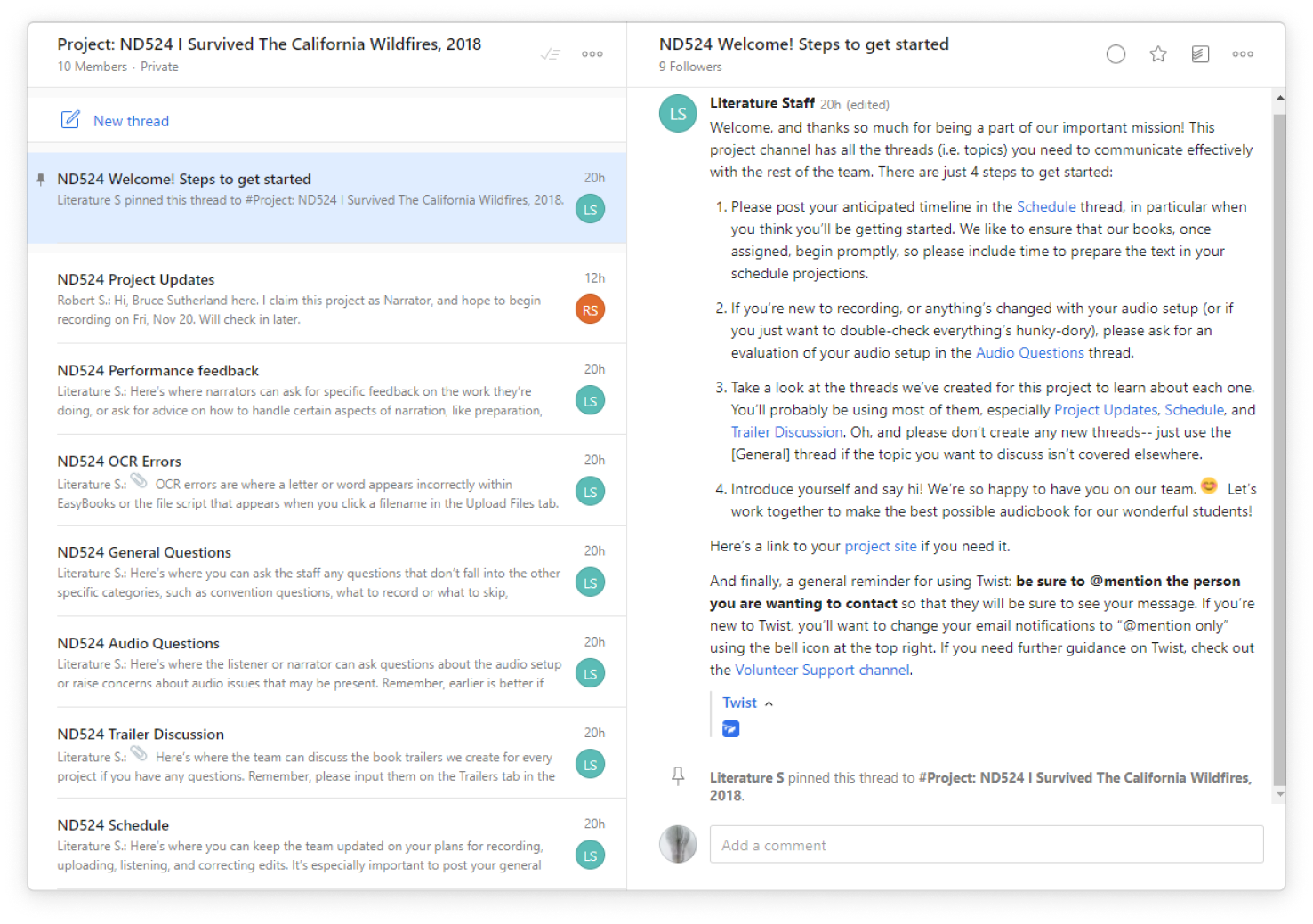 Using automatic project updates: Another thread called "Project Updates," allows volunteers to let Learning Ally staff know when they've uploaded or proofed audio files.
Providing feedback in dedicated threads: A "Performance Feedback" thread enables volunteers to ask for comments on their narration of an audiobook. While Learning Ally staff doesn't have the time to listen to entire audiobooks and take detailed notes, they want to make sure volunteers know they're available to answer specific questions that come up or provide resources to help narrators grow their skills in particular areas.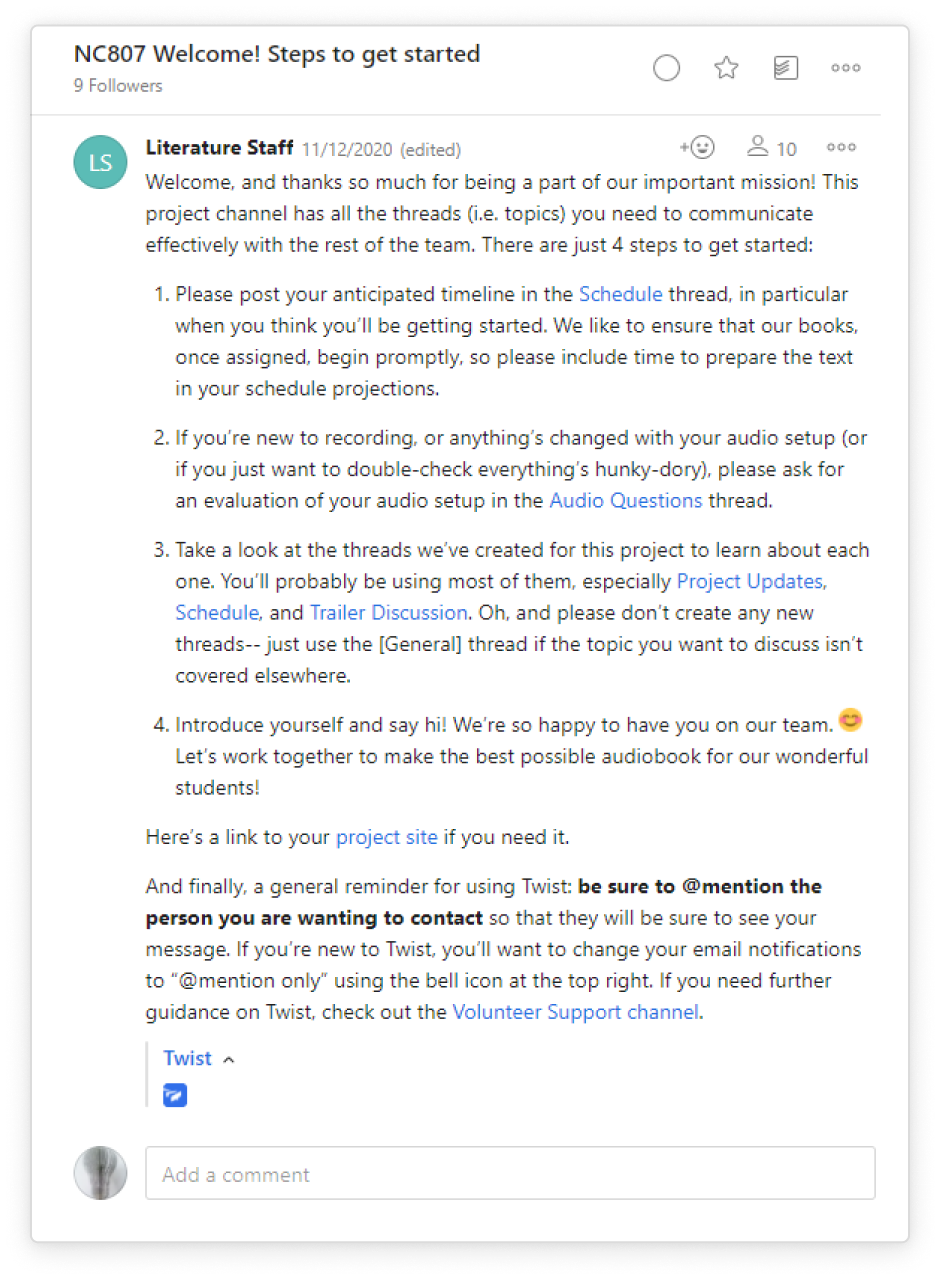 Using private channels: Learning Ally staff can limit participant access in channels to only staff and volunteers directly involved in a project. That way, volunteers' Twists aren't cluttered with conversations they don't need to be a part of.
Embracing asynchronous communication: Twist's design intentionally encourages users not to feel like they must respond immediately to messages. Threads keep conversations organized and accessible over time allowing volunteers to communicate on their schedules and creating the calm environment necessary for recording high quality audiobooks.
"Twist provides a structure for the types of communications you want to have," says Alexis. "With other tools, communication can get lost in the flood of messages."
💡
Tip
: Whether you're working with volunteers, independent contractors, or third party collaborators, Twist lets you
manage guests
, so they have access to only the channels you choose for them.
Fostering a volunteer community
Learning Ally finds Twist is key to creating the sense of community that underlies the sustained commitment of its large volunteer base.
When a volunteer is onboarded, they're encouraged to visit a channel called "Volunteer Nation" and introduce themselves in a channel called "Introductions." The Volunteer Nation channel also includes an overview for volunteers in a thread called "Getting Started? Read me first."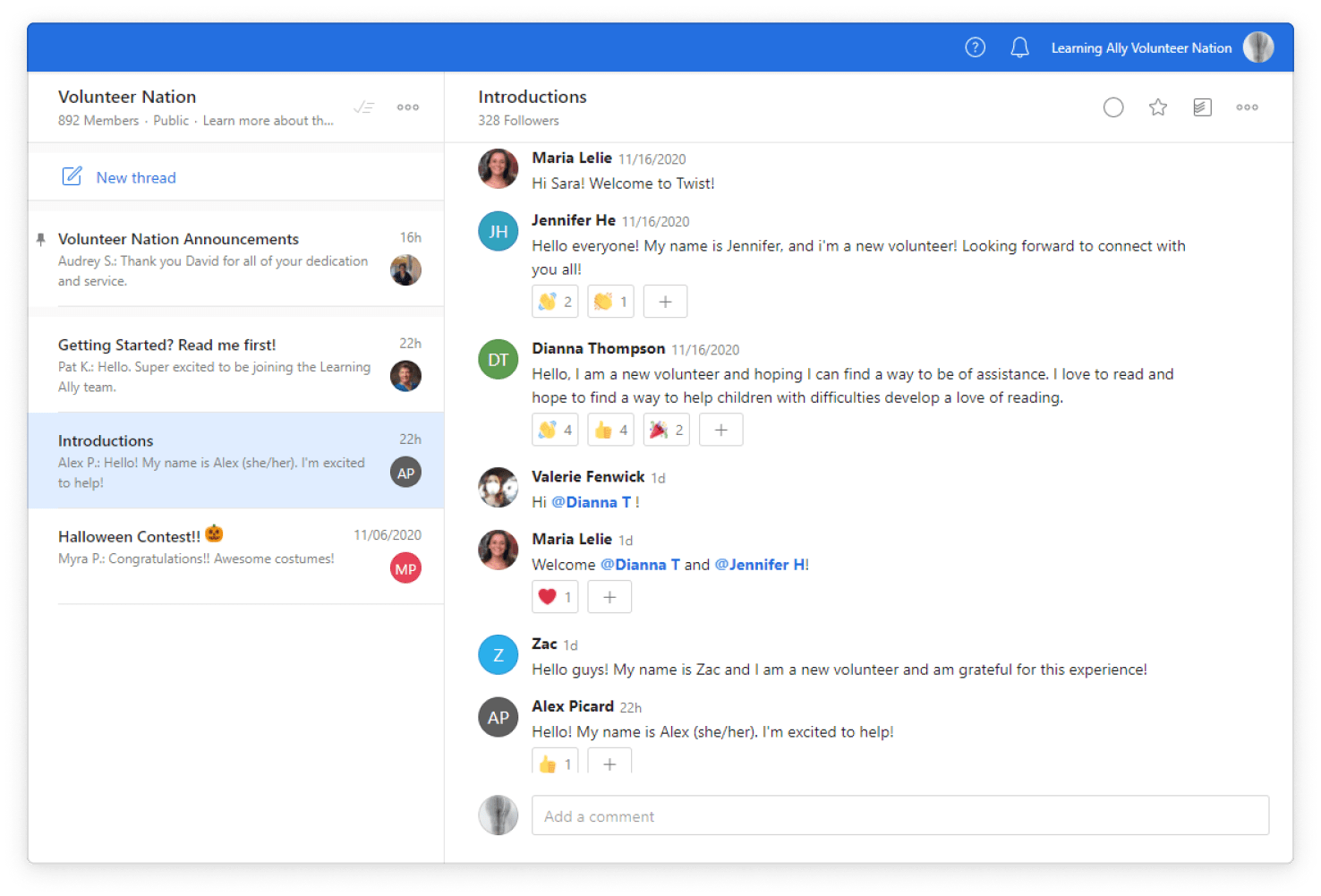 Volunteers also get access to a "Literary Salon" channel. Here, Learning Ally posts announcements about regular webinars it hosts to connect volunteers with the teachers, students, and parents who use their audiobooks, and to educate volunteers about dyslexia and what Learning Ally does in schools.
Volunteers can also connect about shared interests related to audiobooks.
"That's really good for volunteer retention and overall engagement," says Alexis.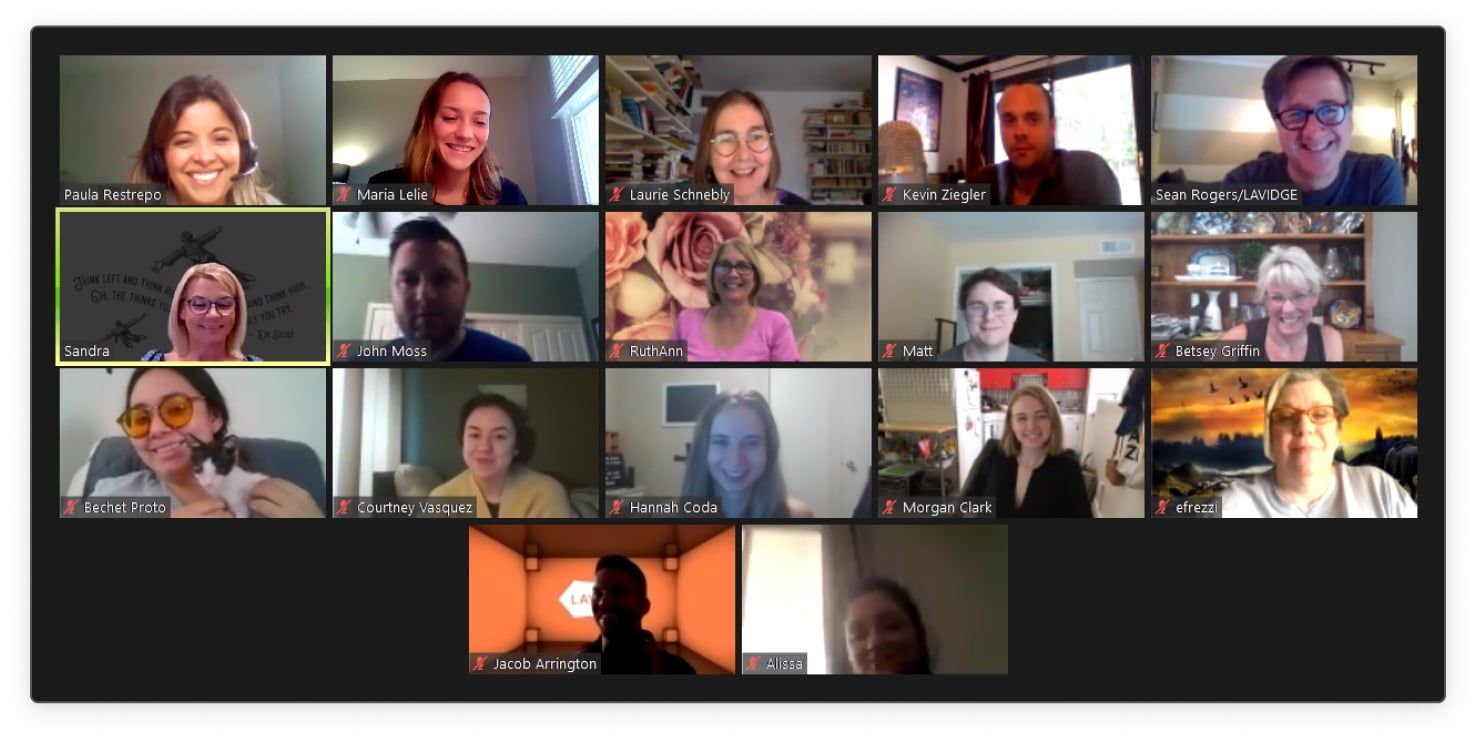 When they used Google Hangouts, some volunteers were chattier than others. Twist makes it easy for people to engage as much or as little as they'd like. Learning Ally has created threads for topics of conversation like pets, travel, food, and Halloween costume contests, so volunteers who want to be social have somewhere to go, while volunteers who may not have the same amount of time can simply ignore the threads.
"That way we have those spaces for people to socialize when they're looking for a break, understanding people are going to have different experiences, needs, and desires," says Alexis.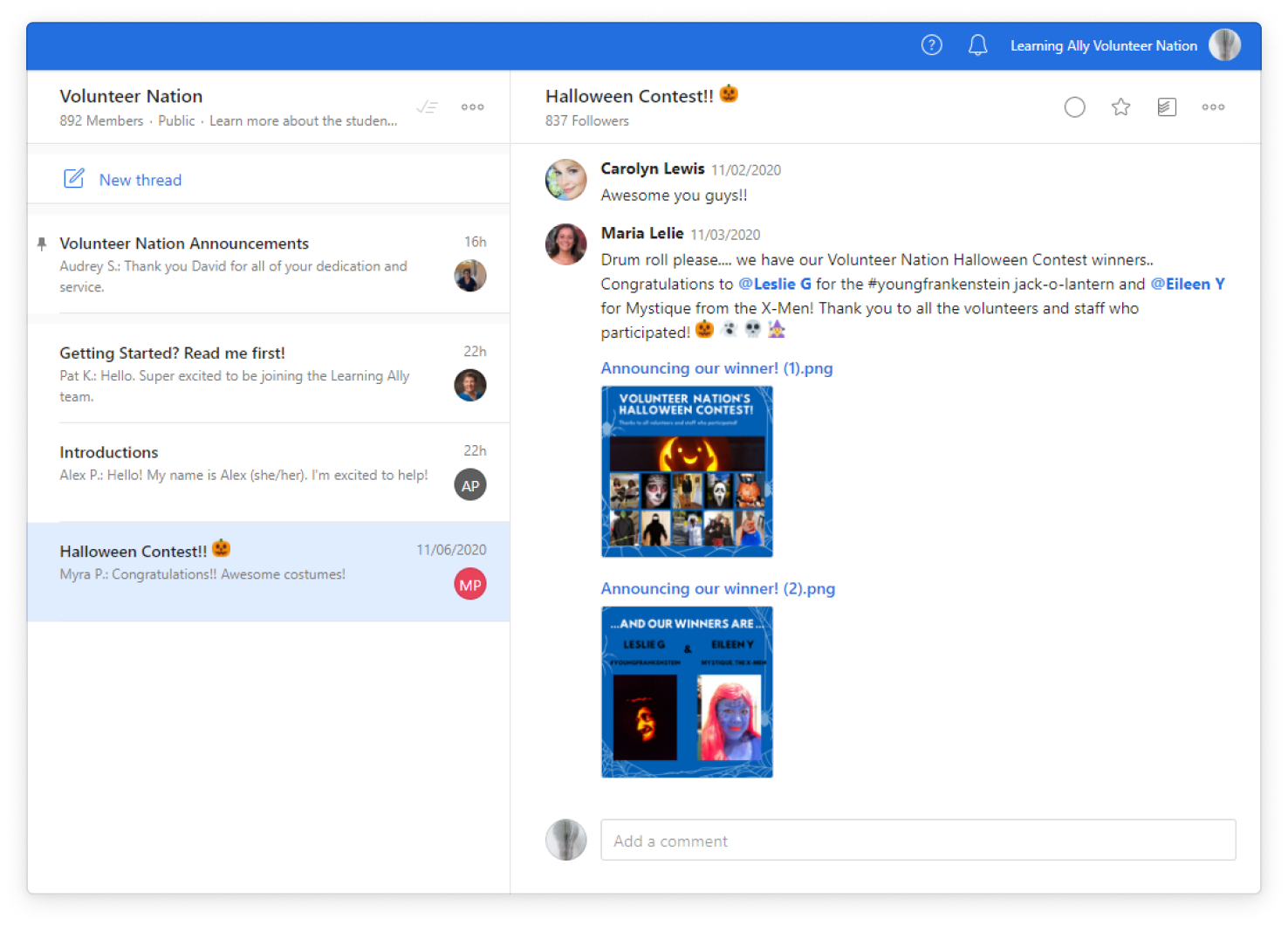 Sharing best practices
Learning Ally is continuously driving to improve the quality of their audiobooks. To help with this, they use Twist to discuss and share best practices for audiobook recording.
Here are a few examples of Twist channels created so that Learning Ally's audiobooks are perfectly put together:
In "The Art of Narration," staff and volunteers share resources and tips for improving performance and highlight great performances listeners to expose volunteers to high quality readers.
"Help Me with My Audio Setup!" is a place for volunteers to request help by @mentioning the audio staff if they think something is awry.
In "Volunteer Support" volunteers can ask Learning Ally's training and tech support specialists about issues related to Twist and the other systems the organization uses.
In "The Listener Bureau," the volunteers who listen to the narration to ensure quality and accuracy can connect with staff to ask questions around standards, guidelines, or best practices.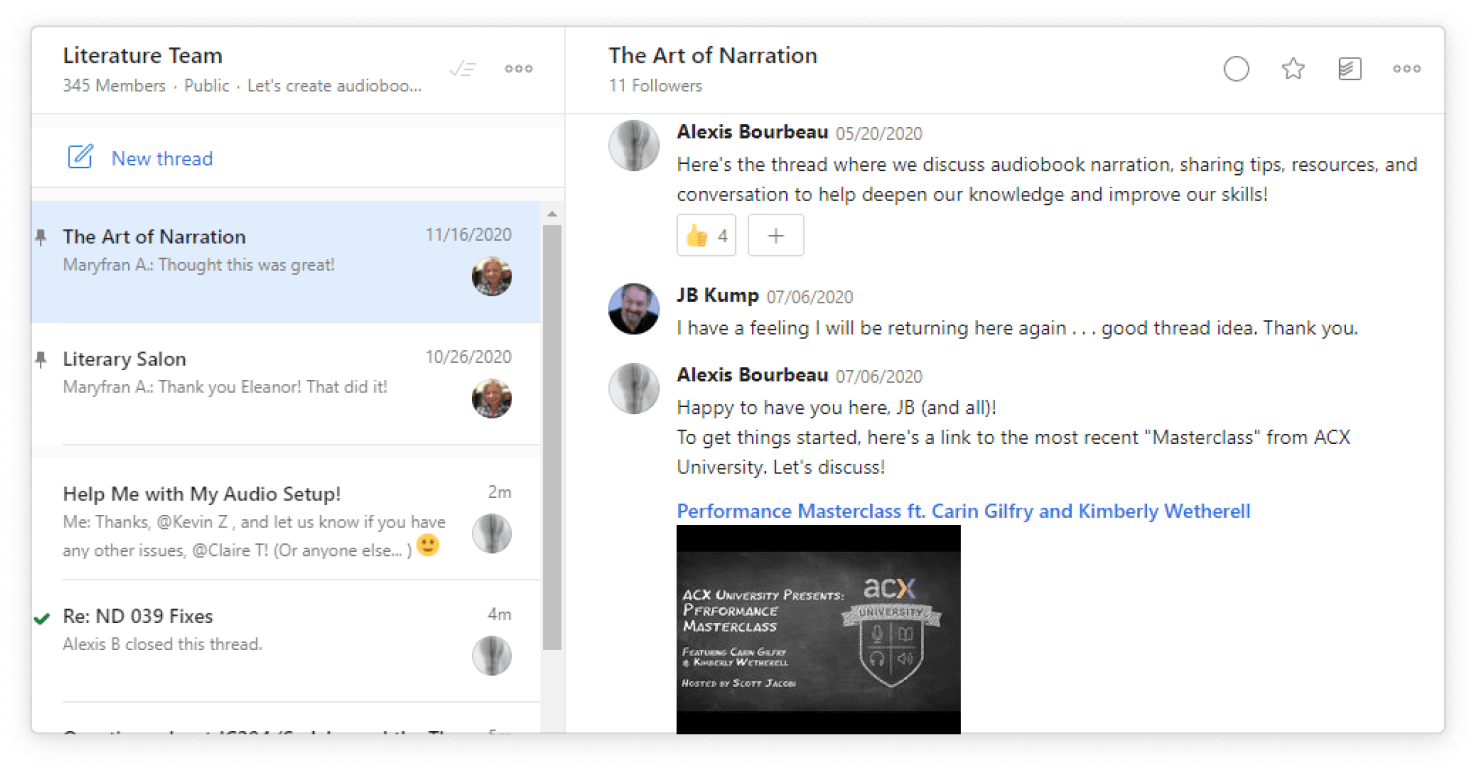 How Learning Ally uses Twist with its staff
Learning Ally doesn't only use Twist with their volunteers; they use it internally as a company too. Twist has helped staff adjust to remote work and maintain an asynchronous culture, something that's been especially important for giving busy parents on the team the flexibility they need.
While staff commitment is high, it's important to create a culture where there are boundaries around work, especially since some of the team moved from working in their Princeton, New Jersey, offices to remote work during the pandemic.
Alexis was attracted to using asynchronous communication so team members don't feel they need to be constantly connected. By "tuning ourselves to whether something 'really needs to be done now'" as he puts it, they can make time for deep work, which allows the team to not just react to and survive problems but work to solve them.
Learning Ally uses Twist channels to advance conversation across several departments on the subject of "Must Have Books" that teachers and students are asking for, to determine what needs the fastest turnaround. "It's a useful way to capture info the whole team needs to see without it getting lost in email," says Alexis.
Twist has also helped Alexis coordinate meetings with his staff, a challenge of distributed work. The team stays in touch through the app when getting a meeting on a calendar is hard, with a 1-on-1 channel Alexis created for each of the six people he supervises.
"We are using the async nature of Twist to push conversations forward and brainstorm new approaches, where previously we might have relied on being in a meeting in the same physical space," he says.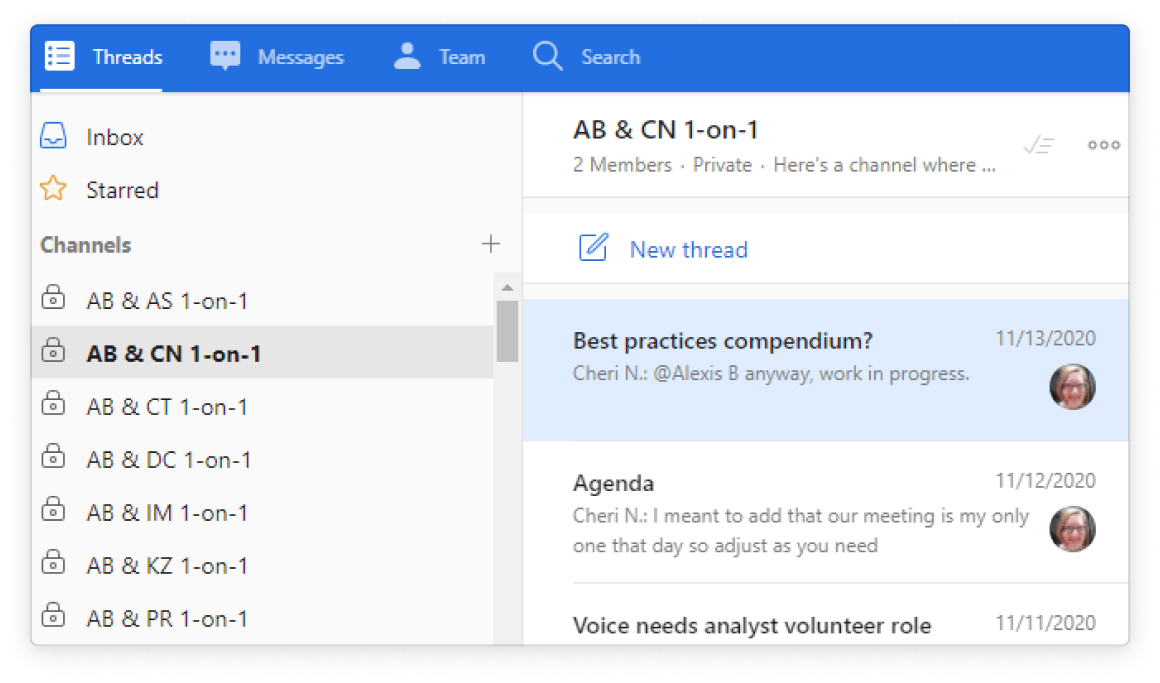 The shift to a more asynchronous culture involved extra work in the beginning, but it's worth it, says Alexis. "I'm trying to bring the best out in everybody and help them craft a workflow that works for them," says Alexis. "There's a cultural shift that needs to be sort of led. That's been a big area of focus for me as a manager. I'm kind of known as the Doist evangelist."
Learning Ally's choice of tools and process are ultimately in service of their higher goal to make reading and storytelling accessible for all, says Alexis: "Sharing the power of reading, which has personally given me so much, still feels like a dream job in a lot of ways".
---
For those interested in Learning Ally's mission, the organization has various ways to give and volunteer opportunities for individuals and corporate groups through its Virtual Corporate Volunteer Events, with participation from organizations including PwC, Houlihan Lockey, Sage, ESPN and the marketing agency Lavidge. "The goal of these events is to bring meaningful volunteer work to your employees while supporting our annual Building Books Fundraising Campaign," says Learning Ally.
---
What's Twist?
Twist is an async messaging app for teams burned out by real-time chat, meetings, and email.
You don't need to use Twist to get a ton of value out of this newsletter and community. But if the topics we talk about resonate with you, there's a good chance the app will too.
See what makes Twist different →
🌎 Built asynchronously by the fully remote team at
Doist